Ductwork
Components & Fittings for Every Industrial Ventilation Need. The air specialists at Effective Controls East offer all the equipment and expertise you need to design and install the optimal ductwork system for your facility. Our broad range of products includes a comprehensive line of clamp-together ductwork from K&B Duct as well as the Monoxivent FRP product line of composite ductwork, including Underduct for underslab HVAC duct and Corrosion Composites, a durable, corrosion-resistant line of ductwork for corrosive and hostile environments such as chemical processing plants and food processing.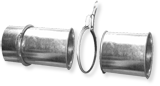 Clamp-Together Ductwork
The Forever Clamp. K&B's unique "Forever Clamp" is designed for dependability and durability. The all-welded stainless steel clamp is fitted with a heavy-duty, continuously re-usable O-ring sealing gasket. With no punched or perforated parts to fatigue or bend, the locking mechanism is so sturdy that it is backed with a "forever" guarantee -- a free replacement if it ever breaks, tears or becomes unusable. With its seal-tight, durable performance, the Forever Clamp fully encompasses and securely joins the rolled lips at the end of all K&B standard components; in addition, special adapters are available to enable connection to virtually any machine or existing duct.
Please visit our online store or contact us to order!