Fans & Blowers
Ventilation, a Key Ingredient in Achieving Air Quality. Part of the comprehensive plan for assuring a safe, comfortable, and productive industrial or commercial environment is to provide adequate ventilation. Effective Controls East is pleased to offer a full range of quality products from Schaefer Ventilation Equipment, including fans, blowers, hoods, and vents. Allow us to design an effective ventilation system to meet your needs for air circulation, exhaust, or temperature control.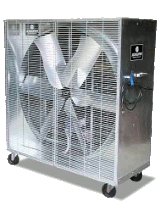 Air Circulation Fans
Powerful and Practical. Effective Controls East supplies air circulation fans as needed to improve comfort, production and safety levels, as well as to reduce equipment and building condensation problems. Fans can be ceiling mounted, ceiling suspended, or wall mounted, thereby remaining out of the way of material-handling equipment and eliminating employee safety hazards. Pedestal fans are totally enclosed with durable urethane coated fan guards meeting all OSHA requirements. Our fans feature low noise levels, maintenance-free motors, and high energy efficiency. A broad inventory of mounting hardware and accessories accommodates a wide range of applications and needs.
Exhaust Blowers
Customized Exhaust Systems. Our blowers, hoods, and vents are built for heavy-duty, low-maintenance industrial and needs of the application and provide high performance with quiet operation. Please view selected project photos of exhaust systems by Effective Controls East.