Mist Collectors
Improving the Work Environment in the Machine Shop. Mist collectors, also called mist eliminators, make the difference for machine operators by improving comfort and productivity and protecting them from health risks associated with long-term exposure to coolant mist. In addition, an effective mist collection system reduces the sticky build-up of all kinds of dirt, easing the task of general housekeeping. Effective Controls East offers a complete line of mist collectors from Airflow Systems with capacities from 150 to 12,000 CFM, including compact units designed for direct mounting, as well as central collectors (hanging or floor-mounted) to be ducted to multiple machining centers.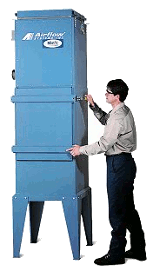 MistPak Series of Collectors
Lower Maintenance, Higher Efficiency. Our mist collectors from Airflow Systems remove oil mists, water-based mists and dry contaminants with minimal maintenance needs and a low cost of operation, plus the additional cost savings of effective coolant recovery. Utilizing a multi-stage filter system, MistPak Collectors provide more than 95% efficiency, resulting in a long filter life of up to two years with continuous operation. Our collectors are at work collecting mist, smoke, machining and grinding dust and fumes from machining centers, CNC machines, surface grinders, wire drawing machines, stamping presses, and screw machines.