Industrial Vacuums
Powerful Cleanup or Source Capture. High efficiency vacuum systems are a necessity for almost any industrial environment. From general housekeeping around the shop to continuous duty requirements, Effective Controls East has the solution. We offer a broad range of quality industrial vacuum systems from Eurovac and Airflow Systems.
Options. There are many options available with all of these vacuums. Some of these are: HEPA Filters, Self-dumping Hoppers, Intercept Covers, Flexible hose, Vacuum Tools, Self-cleaning.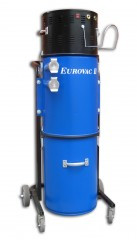 Portable Intermittent Duty Vacuums
General Use or Special Operations. We offer a complete line of portable drum top vacuums that can be used for general purpose cleanup of spills ( wet or dry ) or to clean in and around machinery in hard to reach places. These units will operate with compressed air or standard 115 vac. electric motors and are available in 30 and 55 gallon capacities. We also offer models designed for specific operations, such as flammable liquid recovery, clean room environments, powder paint operations, metalworking, welding, sanding and grinding.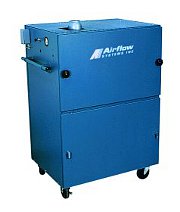 Portable Continuous Duty Vacuums
Portability with Maximum Power. If your needs are more demanding and require more power and larger capacity, Effective Controls East can provide a portable continuous duty vacuum. These units are built for the industrial setting and can be used for almost any application that requires high filtration efficiency and the ability to move large volumes of material at a fast pace. Or, using the multi-inlet option, these units allow collection from several smaller pickup points simultaneously.
Stationary Central Systems
High-Powered Contaminant Control. Effective Controls East also offers stationary central vacuum systems, piping, fittings and accessories for continuous duty cleanup throughout your facility. A central vacuum system can be designed to provide many vacuum sources within operations such as pharmaceutical, foundry, cement and many others.