Vehicle Exhaust Systems
Vehicle Exhaust Design Worksheet
Eliminating Harmful Exhaust Fumes for All Kinds of Vehicles. For capturing vehicle exhaust fumes at their source, Effective Controls East provides a complete line of equipment by Monoxivent. Our vehicle exhaust systems are controlling fumes for a broad range of operations, from military operations to vehicle maintenance facilities. Please view selected project photos of vehicle exhaust systems by Effective Controls East.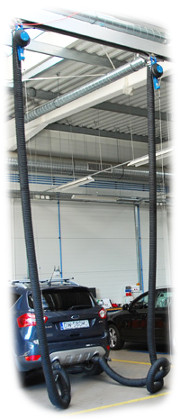 Systems to Fit Every Need. Whether you need an overhead exhaust system or underground removal, we have the necessary equipment, including:
Single or dual drops, with all needed fans, ropes and pulleys, or cable balancers
Spring-retractable and motor-operated hose reels
Oversized hose reels for bus, truck, heavy equipment, and military maintenance applications
Blowers with standard wall brackets or configuration for direct mount to hose reels
For under-floor exhaust systems, all the fittings and flex hose needed to plug into underground outlets
Portable systems for exhaust removal applications where stationary systems may not reach
Overhead Exhaust Systems
Hose Reels. Monoxivent's complete line of overhead exhaust hose reels are available with 4, 5, 6, or 8-inch high-temperature silicone nomex or a medium-temperature polyester hose. Each reel can include a direct-mount fan, which allows a complete standalone system. Or multiple reels can be connected via ductwork to a centrally-located exhaust fan.
Motorized Hose Reels: The monoxivent motorized hose reel features a direct drive planetary gear motor (120-volt, 1-phase or 220-volt, 1-phase) or chain driven tube type motor (120-volt, 1-phase). The motor is operated by spring rocker switch or by optional 2, or 4-button hanging pendant or radio remote control. The reel is equipped with manual override on motor.
Spring-Retractable Hose Reels: The Monoxivent spring-retractable hose reel is designed for manual extension and spring return of the flexible exhaust hose. Just manually uncoil hose to desired length and lock, when finished unlatch and hose recoils automatically.
Exhaust Rails System. The MONOXIRAIL Systems include connections for hose reels, simple drops, and welding capture arms. Each system is offered with either the Technorail or ALU configuration.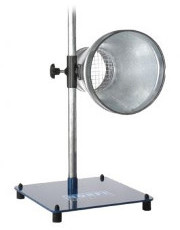 Tailpipe Adapters & Exhaust Funnels
We offer a wide range of adapter solutions for a perfect fit to any vehicle exhaust tailpipe. This connection is crucial for an effective vehicle exhaust system. To properly seal around any vehicle's exhaust outlet, we offer funnels of all shapes and sizes with the option of rubber or aluminum with manual or automatic clamping.