Extractor Arms
Capturing Contaminants at the Source. The most effective method for removing air pollutants directly at the point of generation is with the use of self-supporting fume / dust extractors. By collecting the pollutant directly at the source, exposure of contaminants to operator personnel is reduced dramatically. In many cases, such as welding, brazing, and soldering, overall quality and production can increase due to improved visibility and comfort to the operator. Fume / dust extractors can also be used in applications generating oil mist, dust, odors and gases.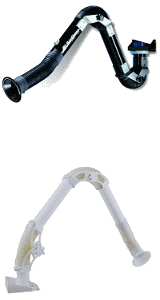 Dust / Fume Extraction Arms
Power and Precision. Our hi-flow arms have a patented friction-release pawl and sprocket design that eliminates the drooping and hard-to-handle movement of standard arms; the E-Z Arm features a 360 degree rotation with smooth, low friction maneuverability, yet engaging positively when positioned. Effective Controls East offers a complete line of dust and fume extractors from Airflow Systems and Monoxivent to provide effective source capture for a broad range of industrial processes which generate dust, fumes, mist, or smoke. Each fume / dust extractor can be installed either to exhaust pollutants to the atmosphere, in conjunction with a central air filtration system or as part of a portable air filtration unit.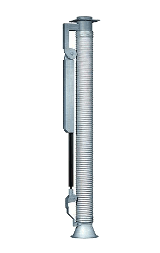 We Can Retrofit Your Old Arms. Gain the benefits of the E-Z Arm with its ease of movement and hi-flow performance, designed to enhance any source-capture operation. Our fume / dust extraction arms are virtually maintenance-free and, when not in use, fold compactly for minimum storage space. In addition, the hose, made of specially designed thermoplastic rubber matrix, spiral wire-reinforced for strength and flexibility, is UL94HB rated for flammability and has high resistance to weld sparks and grinding embers. Effective Controls East retrofits most major brand arms, eliminating spring cables and expensive Nitrogen cylinders, and providing added safety, ease, and efficiency.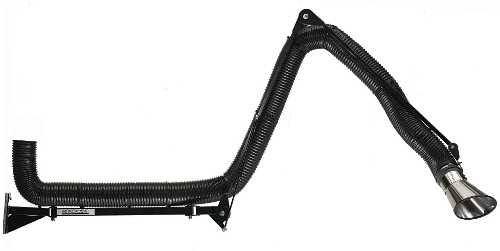 Options & Accessories

Construction:
Polyethylene (corrosion resistant)
Stainless steel (food and drug applications)
Anti-static (electronics applications)
Specifications:
Diameters — 2", 3",4", 6", 7", 8"
Lengths — 3', 5', 7', 10', 14', 15'